How much is a synthetic golf green going to cost?
Important info: Our business model has changed in 2022 and so has our price structure. Please contact us here to discuss latest pricing.
The most common question I receive is, "what is the price of a synthetic golf green?" or "how much is one of these bad boys gunna cost me?".
It's a logical question and one that needs to be answered. This page will give you a rundown on the costs and options involved when it comes to the price of a synthetic golf green.
Please note: It's only a guide. Price and costs are going to vary because every job is different. We have worked on projects ranging from small backyard putting greens, rooftop greens to to full golf holes with bunkers and tees, through to mini putt putt courses. If you can dream something up, the chances are we can build it.
We only offer a premium installation service. We come in and create a masterpiece in your backyard. And these can include,
A large green with bunkers
A large green, with tees so you'll have your own golf course
A full practice set up for the super serious golfer
Full Install Service - This is a fully done-for-you service. We only use our trained and professional installers and each job has a project manager on site to ensure each step of the job is done perfectly.
A full install is typically reserved for larger greens that are at least 100m2. Cost for our install service is typically starting at $250m2 + GST
Final price is determined by a range of factors including,
final shape and design
your location
access
any drainage issues
bunkers, tees and hitting nets required
landscaping
If you're keen for full install I recommend by starting here.
Full Install
It's a complete Done-For-You service and you receive a fully installed green/project by our gun installers and a championship quality golf product at completion.
We use our specially sourced platinum made for golf grass. These golf greens can take in lofted and chip shots from greater than 20m distance (even shots from 200m +) and offer the most realistic golf experience possible. These greens will mimic the playing characteristics you see on the golf course and will typically be greater than 100 sqm in size. (if you want something smaller you may need to look at our DIY Kits)
They are custom designed and built from the ground up. We do everything, including a clean up, full testing and handover.
We also offer our platinum service to our commercial clients such as mini putt putt courses or pitch and putt. Due to the custom nature of these projects, price is strictly on an application basis.
As a guide, price is going to start at $20,000 + GST (for something small) and go up from there. If you're after a large putting green (300m2 + tees and bunker) you're looking at somewhere in the ballpark of $90K + GST.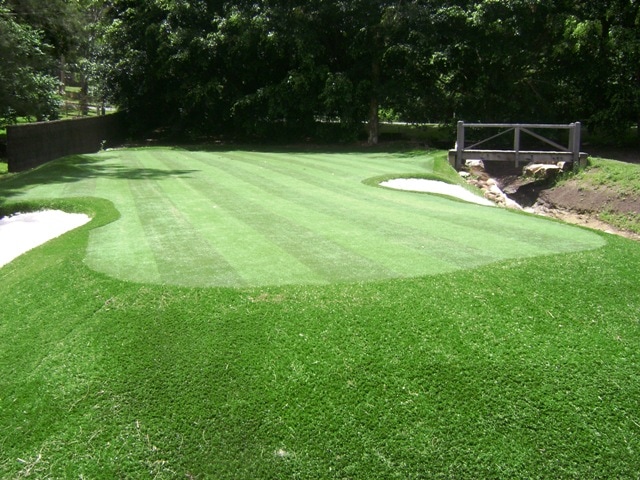 Mini Golf Courses
We can design and install your own putt putt course or even a pitch and putt. These mini golf courses are ideal for private or commercial use. And with Mini golf making a comeback, there's never been a better time to get involved.
We also feel we've pioneered a unique form of Mini Golf. We've removed windmills and other strange objects and offer a more traditional golf experience. In our thinking, this attracts all golfers, both those new to the game, and those who are more traditional. And perhaps best of all, our mini golf system is way more cost effective.
Please contact us to discuss further. Or please read our comprehensive mini golf report over here.
More Information about Synthetic Golf Greens and Price
We offer a Professional Onsite Consultation (we call it a Golfscape Consultation) service for large greens and commercial clients (including mini golf courses). This is reserved for clients who want the absolute best golf green possible and are interested in working with us closely to get their dream golf set-up. In most cases, your green complex will be over 100m2+.
We travel to site, give you multiple options and provide drawings and other designs on what we think will work well.
And the best way to get started is to visit this page.
WHAT YOU GET WITH OUR FULL INSTALL

A full install takes the hassle out of ordering the grass, installing it and then worrying if you've done it properly. Our trained team of experts can come in and complete your green from start to finish - leave the hard work to us.
Our team know as much about synthetic golf grass and the construction of synthetic greens as anyone in Australia.
Every install is different. Each customer has a set of different ideas, designs and needs and it's almost impossible to give you an accurate "ballpark" price right off the bat. So the only way to get some pricing is to arrange a chat with us. This is no cost and certainly no obligation.
We go over all the options and provide you with a full concept of your proposed golf green.
Important information: Our full install jobs are led by experienced operators who have been chosen and trained by us. These guys are the best in the business and have a passion for golf and understand the game. They work to our high standard and don't take shortcuts.
But there is a catch... ... In most cases it's not profitable or cost effective for us to travel and install the smaller type greens (say under 100m2).
Just so you're sure, we provide a professional and complete Done For You Service. Our Golfscapes are the ultimate in backyard golfing greens and are a premium offering.
Please note:
Price and products are subject to change without notice and this page should be used as a guide only.
We also offer DIY kits for those looking at doing a smaller backyard green. Please follow the link below to learn more.
Please visit this page so we can discuss what you have in mind and give you some precise price ideas.