How much is a synthetic golf green going to cost?
The most common question I receive is, "what is the price of a synthetic golf green?" or "how much is one of these bad boys gunna cost me?".
It's a logical question and one that needs to be answered. This page will give you a rundown on the costs and options involved when it comes to the price of a synthetic golf green.
Please note: It's only a guide. Price and costs are likely to change from job to job, especially if you're after something custom built. We have worked on projects ranging from tiny backyard putting greens, rooftop greens to to full golf holes with bunkers and tees, through to mini putt putt courses. If you can dream something up, the chances are we can build it.
We essentially offer 2 types of services for our synthetic golf greens:
1: DIY - For those wanting a small green on a budget and who have some handyman skills our DIY option is for you. We can send you all the grass, the accessories and DIY Guide and you're away. This is the most economical way to get a premium backyard putting green. Essentially, we provide you with grass and accessories and you install it. The average cost for DIY is typically between $900 - $2000 (but this is a guide only).
For your reference, at time of writing, our premium synthetic grass prices are between $35m2 - $60m2 (supply only)
Click here to get a price for your own DIY Project.
2: Full Install - This is a fully done-for-you service. We have installers in most major cities and we help with design, but more importantly, we make your dream a reality by constructing your golf green from scratch. No need to worry about getting your hands dirty and having to deal with earthworks, drainage and laying of grass. We also clean up your site afterwards.
A full install is typically reserved for larger greens that are at least 50m2. But our smallest green size can start from 20m2. As a very rough starting point, full install pricing starts at around $4,000 and goes up from there. But pricing can vary dramatically.
Final price is determined by a range of factors including,
final shape and design
your location
access
any drainage issues
bunkers, tees and hitting nets required
If you're keen for full install I recommend by starting here.
DIY Golf Greens
If you are on a budget and/or you're the handy type and don't mind getting your hands a little dirty then the DIY option is for you. We now stock and supply a specific DIY synthetic grass. This grass has been created to be easier to install and it's perfect for small backyard putting greens.
But don't worry, this grass is premium in every way to our other grasses (UV protection, made for golf, guaranteed etc). The only limitation is you can really only hit lofted shots from inside 20-30 metres.
We have created this product because the cost of a fully installed synthetic golf green can be prohibitively expensive for some ($4K-$100K +).
Our DIY grass allows you to work to a tighter budget and is also much easier to install.
There's less infill required because this grass has a shorter pile height
It's easier to cut and make joins so it's ultimately way easier to self-install
This grass is very dense, so it's still very durable
We can ship you the grass and the accessories anywhere in Australia and then it's over to you. Price starts at around $900 and goes up from there. The average price is in the ballpark of $1750 but please click here to get a price for you.
One more thing: If you think DIY is for you but you're a little worried about the actual process of installation, here's two more important points:
a. We provide you with a comprehensive DIY Guide (including videos) that walks you through the process. We are also available to help you via email and phone. Countless DIY jobs have been saved by making a quick phone call.
b. Find a local installer to help you. Most small time excavation businesses or local landscapers will be able to assist you. Some extra help here will actually save you lots of time and ensure you get the greatest possible result.
Full Install
It's a complete Done-For-You service and you receive a fully installed green/project by our gun installers and a championship quality golf product at completion.
We use our specially sourced platinum made for golf grass. These golf greens can take in lofted and chip shots from greater than 20m distance (even shots from 200m +) and offer the most realistic golf experience possible. These greens will mimic the playing characteristics you see on the golf course and will typically be greater than 70 sqm in size. (but we can do smaller ones)
They are custom designed and built from the ground up. We do everything, including a clean up afterwards.
We also offer our platinum service to our commercial clients such as mini putt putt courses or pitch and putt. Due to the custom nature of these greens, price is strictly on an application basis and we like to start the ball rolling by getting you to fill in the short survey here.
As a guide, price is going to start at $4,000 + GST (for something really small) and go up from there. If you're after a super large putting green (say 200m2+ with tees and bunker) you're looking at somewhere in the ballpark of $50K + GST.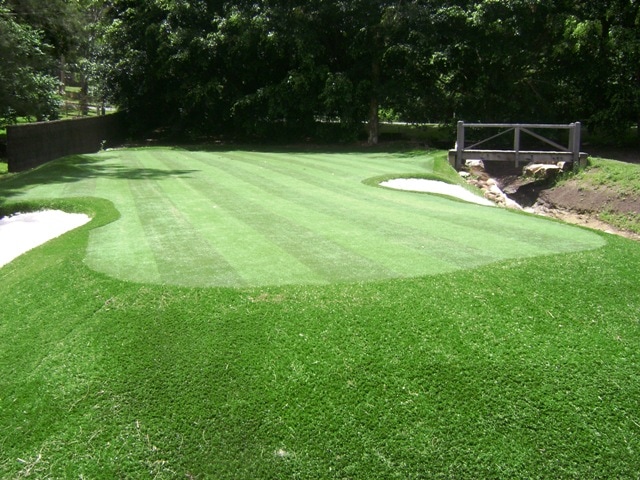 Putt Putt Courses
We can design and install your own putt putt course or even a pitch and putt. These mini golf courses are ideal for private or commercial use. And with Putt Putt making a comeback, there's never been a better time to get involved.
We also feel we've pioneered a unique form of putt putt. We've removed windmills and other strange objects and offer a more traditional golf experience. In our thinking, this attracts all golfers, both those new to the game, and those who are more traditional. And perhaps best of all, our putt putt system is way more cost effective.
A very good commercial quality putt putt course will start at around $150K and go up from there. All pricing options are determined by size of venue and landscaping. Please see this page to learn more.
More Information about Synthetic Golf Greens and Price
We offer a Professional Onsite Consultation service for large greens and commercial clients (including mini golf courses). This is reserved for clients who want the absolute best golf green possible and are interested in working with us closely to get their dream golf set-up. In most cases, your green complex will be over 100m2.
We travel to site, give you multiple options and provide drawings and other designs on what we think will work well.
And the best way to get started is to book a call with us. This way we can give you some basic pricing options over the phone and see if we're a good fit.
WHAT YOU GET WITH OUR FULL INSTALL

A full install takes the hassle out of ordering the grass, installing it and then worrying if you've done it properly. Our trained team of experts can come in and complete your green from start to finish - leave the hard work to us. Our team know as much about synthetic golf grass and the construction of synthetic greens as anyone in Australia.
Every install is different. Each customer has a set of different ideas, designs and needs and it's almost impossible to give you an accurate "ballpark" price right off the bat. So the only way to get a quote is to tell us exactly what you'd like. We need to know the size of the green and any accessories you have in mind. This is also the best time to send any images through of your proposed green site, as well as a rough drawing with measurements.
Important information: Our full install jobs are led by experienced operators who have been chosen and trained by us. These guys are the best in the business and have a passion for golf and understand the game. They work to our high standard and don't take shortcuts.
But there is a catch... ... In most cases it's not profitable or cost effective for us to travel and install the smaller type greens (say under 20m2).
Just so you're sure, we essentially have two types of full install clients:
Large Golf Green - these are bigger greens (over 70m2) that are installed on larger properties and mimic the characteristics of normal type greens i.e. you can play full lofted shots onto them. Also, these greens are designed to resemble their real life cousins. We also do putt putt courses and other golf projects for our commercial clients.
Smaller Golf Green - these putting greens are usually between 35m2-70m2 in size and will be primarily used for putting and small chipping only.
Full install will start at around $4000-$5000 + GST for these small greens (depending on location and the exact shape of green you want). Pricing for large synthetic golf greens starts at around $20,000 (again, everything is dependent on final size and shape)
If you're working to a tight budget then our full install option might not be for you. Please consider DIY if this is the case.
As always, if you have any questions please book a time to chat or visit this page for more.
Please note:
Prices are accurate as of April 2019. Also, price and products are subject to change without notice and this page should be used as a guide only.
Please visit this page to get a specific price for your project.
Pricing is subject to change without notice and GST and freight costs