BRINGING THE MAGIC OF GOLF, FRIENDS & FAMILY TOGETHER
We provide the Australian market with the very best in Golfscapes and Mini Golf Courses. Everything we do is premium. We don't take shortcuts and we only recommend the products we'd use ourselves. Our grasses are made for golf, are 100% safe from nasty chemicals (and God knows what else), kid and pet proof and offer the best playing surface possible. If you're the kind of person that likes the best, then we're here to help you. Here's a bit more on how we like to operate.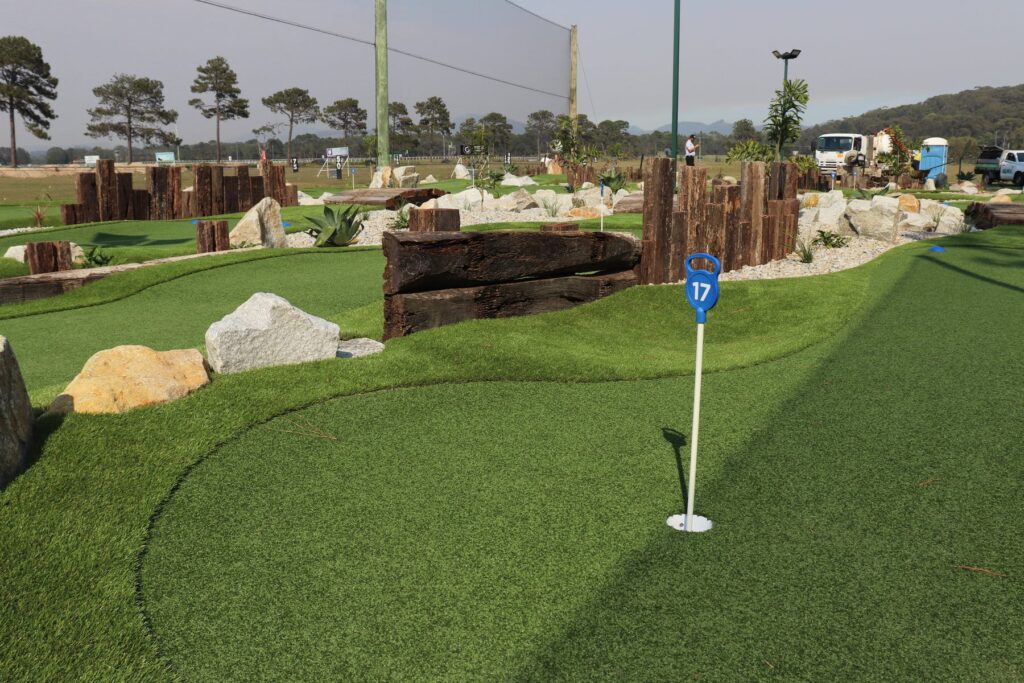 No concrete!
We think our golf greens are the most realistic and playable synthetic golf greens on the market. They putt exceptionally well and you're also able to hit lofted shots onto them and watch them spin and come to a stop. Not all synthetic greens can do this. In fact, many synthetic golf greens become so hard they're like concrete. We hate concrete greens as they give the industry a bad name. So concrete greens are out, and the world's most playable golf greens are in.
Educate:
When Cameron was first in the market for a golf green, there wasn't a lot of information aimed specifically at golfers. All synthetic grass suppliers looked and sounded the same and it was almost impossible to make an informed decision.
SupremeGreens.com.au
Has set out to change that - we've gone the extra mile to ensure the website has a tonne of information to help you make the right decision. Getting your own synthetic golf green can be a big decision, and our goal is to help you make up your mind by providing you with as much information as possible.
No Pressure:
There's no high pressure sales tactics from us. We'll do everything we can to help you get the information you need but we DON'T employ pushy sales people who hound and annoy you. You're always in the driver's seat and we hope dealing with us is an enjoyable experience.

Premium:
Just so we're clear, we only use the very best synthetic grass and products available to us. We're not the cheapest, because we refuse to make any compromises on quality. And sometimes we lose out to those who import the cheapest grass and offer compromises to their install service - and we're fine with that. Our aim is to work with those who like the best and appreciate the finer things in life.

Chat to us:
Interested to learn more? Then please book a call to chat. We'd love to hear about your dream golf green and how we might be able to help. There's no cost or obligation to book a chat and we'll provide more info on our services, give you some great design ideas (things that are working well for others) and also some price ideas. Book a time to chat here >>
This business is the brainchild of Cameron Strachan. Cameron is a serious golf enthusiast who wanted to help all golfers get their very own golf green. Cameron has spent considerable time working out the best products for golfers who like the best & most realistic products.
Cameron is a mad golfer, having played off scratch or better for 20+ years. He has been playing most of his life and has dedicated huge chunks of his time to developing better and simpler methods for golfers to play to their full potential.
His website,  Automatic Golf is a popular golf learning website and is read by golfers from every corner of the globe. Cameron has devised a scientific swing model based on extensive biomechanical analysis and spent the last 10 years developing ways of learning the swing that make golf no harder than riding a bike or throwing a ball. He has also written a popular book on putting, which in part, is based on what he taught the world's best putter.
This site is about providing you (the consumer) with all the right information about synthetic golf grass. This site is unique in Australia and offers you all the information you need if you're considering a synthetic golf green.

The site came about when Cameron Strachan (now the owner of SupremeGreens) installed a Supreme Green in his own backyard. He was so impressed with the end result he had to tell the world about it. He practically begged for a job and the rest, as they say, is history.