In this article I want to go a little bit deeper into what goes into a mini golf course construction project.
If you're a manager or owner of a golf course or some other golf related business and you're interested in having your own mini golf course constructed, then this will be the most important article you'll read.
Why? Because I'm going to lay everything out for you in this post. The good, the bad and the ugly and give you vital info on what you'll need to get in place to ensure your facility is as successful as possible.
And before I get into the guts of the article, I just want to say that mini golf is booming at the moment. Golf clubs are seeing the benefits and are realising how profitable these things can be – (insert link to calculator).
And when constructed and marketed well, these mini golf creations can be little cash machines – earning an amazing return on the investment. So let's get into it, here's the process for a mini golf course construction project.
Mini golf design
Your design phase is critical. Your course will only be as good as your design so please take your time and get something that's going to stand the test of time. It's also key to be low maintenance – nothing worse than having to replace the synthetic grass every two years or needing to pay big money to keep the facility in working order.
Our advice is to keep the design fairly simple. And depending on your budget, you can go crazy with the obstacles or you might like something a little bit more conservative.
The bigger and more adventurous your obstacles, the more your mini golf course construction is going to cost.
Here are some key design elements you need to consider:
Always go for 18 holes (or more) if room and budget allows. 9 hole courses are fine if that's all the room you have, but you will limit the earning capabilities.
Be very mindful of the flow of the course. You want to avoid bottlenecks where possible.
Consider having the 9th green and 10 tee located near the pro shop (or create a space for a canteen somewhere on the course)
The 18th hole should always finish near the proshop and allow for easy access off the course.
We recommend not going too crazy with the design. Completely "stupid" courses aren't too much fun and reduce the number of repeat visitors.
Excavation and baseworks
It can't be understated how important these steps are. It's easy to cut corners but this almost always leads to disaster. One has to ensure the ground preparation is done to the highest standard.
Any errors here may result in shortening the lifespan of the facility and/or causing major repair bills down the track.
It's imperative that the ground is compacted correctly with all the right levels in place. And then there's the drainage …
Drainage
The drainage is key to ensuring your facility is playable for the longest amount of time throughout the year. You don't want heavy rain events to cause flooding and then result in you having to close the business down for long periods of time.
So the drainage is important. Here's just some of the important considerations for the drainage aspect of your mini golf course construction.
Will there be major water runoff coming from a point around your proposed putt putt course?
Has your course concept/design taken into account low points to avoid water pooling on the course?
Have you got somewhere to drain the water away?
Should you put drainage points under the cups?
Does your course need other drainage pits?
Will you require dry creek beds or something similar to get heavy rainfall away? (note: almost always, in QLD and other areas of intense rainfall, this is imperative)
Concrete
For most commercial standard mini golf construction projects, you should always use concrete for the foundation of the course.
This ensures the very best finish, the smoothest roll and the longest lifespan. While there are slightly cheaper options over concrete, these typically aren't going to stand the test of time.
So concrete it is. And keep in mind that concreting a mini golf course is a different beast from the usual concreting you see around the place (like footpaths, driveways and house blocks).
The key consideration for the concrete are:
What's the best concrete mix to use?
Are the concrete team experienced with shaping and moulding a mini golf course?
Should you concrete in your sleepers, rocks and other obstacles?
How is water going to escape the course?
How do you concrete around the holes so all holes aren't a funnel?
How steep a gradient can be used without being stupid?
Yes. The concreting is important and it's not an easy thing to get right. It takes experience and know-how so you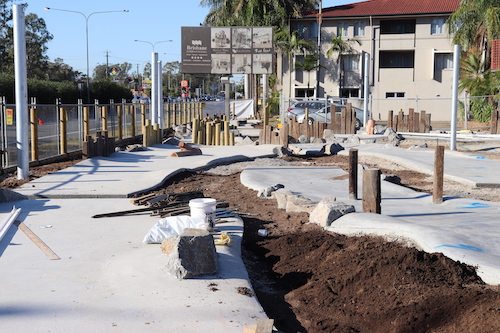 The synthetic grass
What's the best grass to use?
It's a question that's obviously important. And when it comes to your mini golf course construction, you need to choose carefully. Get the wrong grass and it could be one expensive mistake.
And synthetic grass is something I've spent a lot of time researching and thinking about. And my best advice when it comes to grass is,
Get the good stuff. When it comes to synthetic grass and mini golf, you really do get what you pay for. And what constitutes good stuff? Here's a brief list:
Made for golf. It's easy to cut corners and get grass that's a hybrid of hockey/lawn bowls/recreation but it's not the best. These hybrid grasses tend to get too fast and hard.
Get Australian made grass. And the main reason here are;

it's properly UV protected
made to exacting standards (no nasty chemicals)
pet, kid and almost "anything" proof
and we might as well support the Aussie market
proper guarantees and warranties backed by Australian owned businesses

Forget about non infill grass. It's tempting to use a grass that doesn't require an infill, but our research suggests, at this point in time, these new grasses are not going to last.
There are really three options when it comes to choosing synthetic grass. You can buy from the USA, China or Australia. And while it's tempting to buy the cheaper variations from China, they are usually not up to the highest standards.
Synthetic grass from the USA tends to be expensive but still doesn't have the highest UV rating.
So, in our opinion, the best grass is made right here in Oz. And don't think that you'll be paying a bomb for this grass. You won't. On average, you'll pay somewhere around $40m2. The actual price will vary depending on the size of your facility and the precise grass used (there are a few options).
Landscaping
The landscaping will finish off your mini golf course nicely. It can soften the overall look and feel and even help theme your course.
What is often misunderstood is the landscaping needs to be considered very early on in the project. Why?
Because it's not always easy to create the best landscaping options after the course has been constructed. One can't get heavy rocks, boulders and trees into position because you can't drive machines on the concrete/grass.
So everything needs to be in place and organised early into the mini golf course construction programme. And it's way more cost and time effective to move decorative rock, mulch, pebbles and other items using machines than it is by hand. Some extra thoughts on the landscaping;
Use native and low maintenance plants where possible (be wary of "messy" plants that are going to drop debris)
Consider an irrigation system (much easier to do at the start)
Map out heavy items upfront so they can be located in place by machines
Avoid cheaper mulch that is not going to last and/or could wash away
Consider shade sails
It certainly gets hot in Australia and we've found that shade sails certainly enhance your mini golf course. Obviously they provide shade but they can add some colour and attract attention to passing traffic (especially if you're looking at constructing near a busy road).
Some well positioned shade sails can keep the sun off your clients (and the course) and offer a nice splash of colour.
Some final thoughts…
The construction of a mini golf course is a big job. While there are always cheaper options available, if you're looking for a fully commercial facility that's going to be long lasting and profitable, you need to do it properly.
Our big point of difference is we can manage the project from the start, from professional design and concept to the full construction phase of the project. We don't outsource the work, it's kept inhouse, and we use our expert install team who know what they are doing.
If you were to outsource each phase of the mini golf course construction you may find some issues:
Are the contractors up to speed on how each step blends into the next? (it's important things like base preparation and drainage are all tied together into the overall build)
Are you going to be paying a premium for each part of the design phase?
Will you be able to manage all these different contractors?
We can provide you with everything, including social media marketing during the construction, so you can get the best facility for the least amount of stress, worry and cost.
If you're interested in taking the next step, then please book a time to chat with us and let's see if we're a good fit.