As far as impressive backyards go, this one is going to be hard to beat. The adventure golf set-up absolutely complements the million-dollar views at this Sunshine Coast property. Here's the full story.
The house is located in Buderim, inland from Mooloolabah beach. The owners wanted to do something on their steep block. A tennis court was out of the question, and the cost of levelling the land was going to be cost prohibitive. Their son and landscape gardener thought a putt putt set up would work well. It turned out to be an inspired decision.
Wayne, the landscape gardener, created the terracing – also put in some steps and set down the rough plan for the course. From here we took over and turned the idea into a reality.
All up there's close to 300 square metres of synthetic grass and took a couple of weeks to complete – the job would have been finished earlier but was setback due to some wet weather.
The course has 3 holes at the top, adjacent from the BBQ area and pool. It's the ideal place for a little putting practice and to take in the view. There's a bunker in the middle of these holes, this breaks up the synthetic grass nicely and also offers a place for some bunker practice. It can also easily double for an outside entertainment area because the grass is so durable.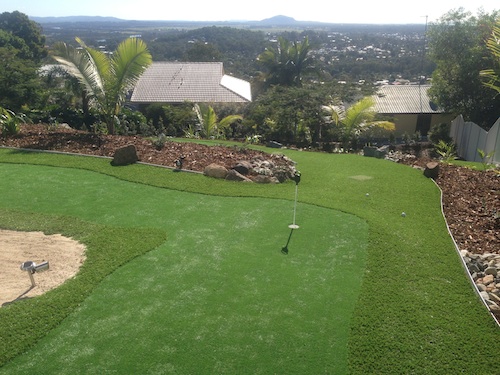 After a relatively gentle start you make your way down the hill. The 3rd hole offers two tee off points – easy and then something much more tricky. I should also add that this backyard golf playground is more than a putt putt course. It has been created to allow for chips and pitch shots. With Almost Golf Balls, you can even hit full shots. These balls are lightweight, flying like a real ball but travel shorter distances. And because they're light, they can't break anything. This helps keep the neighbours happy.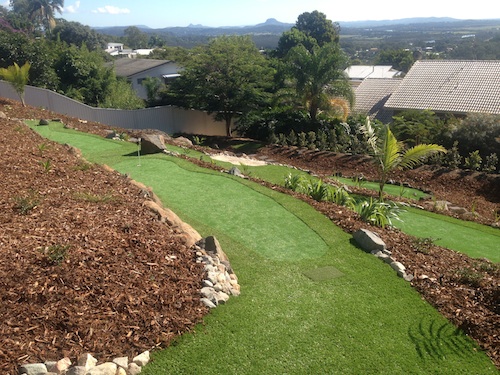 We added some trickery to help get your ball down the slope. After you putt out on the 5th, you need to get your ball into the plastic pipe to get down to the next tier and find the 6th cup.
The course gets more difficult as you get towards the end. The 8th requires a small downhill chip to find the putting surface. Get it wrong and you may hit some rocks or find the garden beds – this is all going to add a few strokes to your score.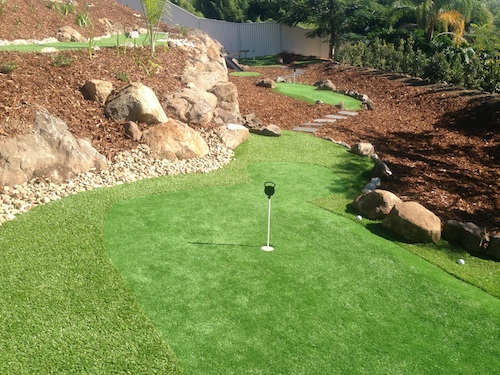 The last two holes are the most interesting. 9 requires an accurate long putt to find another pipe. From here your ball travels underground for 5 metres and comes out on an island green. This green as some humps and bumps and will take all your skill to avoid having more than three putts.
We added a ramp for the last hole. You need to make sure you find the ramp otherwise you'll be on the garden bed. A well struck putt will finish near the cup, but don't go too hard (or soft) or you'll leave a difficult putt. Check out the video below.
Maybe the best thing about this adventure golf playground is you don't need to follow the set course. With some imagination you can make up all sorts of holes. We even created a small teeing ground at the end of the course so you can pitch your ball back up the hill. There are so many options and available holes you could spend hours playing and not get board. It's a great set-up for all types of golfers, weekend warriors, kids and even the expert golfer would have lots of fun around this course. Would certainly test out your short game.



It's better than awesome. It's ridiculous! We love it and can't believe it's our backyard.


Nigel,

Property owner
If you're on a steep property and/or have a parcel of land that could be difficult to work with, then something like this might be an option for you. It was an exciting project for us to work on and we'd be happy to discuss any ideas you may have – radical or otherwise. You're really only limited by your imagination.