Lawrence has a smallish backyard in Sydney that needed some renovations. His dog had gone on a a tear and destroyed the turf and garden beds. So instead of re-turfing and planting new flowers, he did what any mad keen golfer would do.
He asked his wife for a golf putting green.
Lawrence is smarter than your average bear because he followed up his request with some terrific counter arguments. These included,
Maintenance free. Tick, these greens are almost maintenance free, requiring minimal servicing. And it's bloody great NOT having to mow grass!
Looks great. Tick. These greens look fantastic all year round. They give your backyard a talking point and are multi-use. Modern synthetic grass looks so realistic that many people have a hard time telling the difference.
The dog will like it. Tick, dogs love the extra company and a nice place to lie down (certainly beats the mud). Plus, the greens are pet proof, simply wash any of the nasty stuff away and you'll never know.
Enjoy with the kids. Yes! Kids love the putting green, even if they don't like golf. What better way to spend time with the family then outside in the fresh air. Mix in some golf practise and all is good.
Lawrence got the wife over the line and Bruce did the install a few weeks ago. We added some nice fringe grass so Lawrence can work on his chipping game too – he tells me he's able to get a nice amount of spin on these shots and this will help improve his game scores further. Here are some happy snaps of our first case study on a synthetic golf green in Sydney.
Before:
Installation: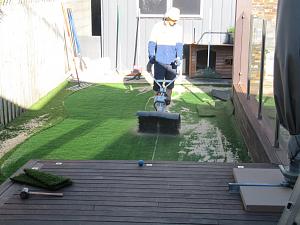 Completed Golf Green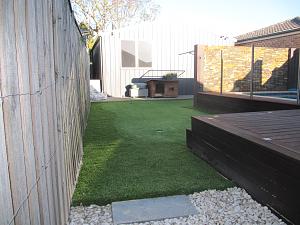 How much nicer does Lawrence's backyard look now? I love the pic of the dog lying on the green. Koda, my dog, takes the exact same pose. Bruce has finished off everything nicely and I reckon this greem will give Lawrence and his tribe years of enjoyment as the photos below indicate.

Having some fun
If you're in the Sydney area I'm sure Lawrence would be happy to show you his green and/or give you a rundown of our products and service. Please contact us to arrange to chat with Lawrence. He might even be able to help you with some tips on convincing the wife…
As you can see, a putting green is an awesome investment and can turn your typical backyard into something special. We have a specialist team in Sydney and can give you a quote right away. Contact us today.