In the photos below you can see a brilliant example of how to build a synthetic putting green.
This is one of our DIY synthetic golf greens and is a perfect example of using a dead space at your property:
Turn a previously ugly or unused space into something special
Enhance your property
Give yourself a place where you can practise your golf game
Build an entertainment area
And it's even something the wife will love!
It's a perfect win-win situation. And because it's DIY, you can save yourself 1000's over a full install. In this case, the home owner enjoyed getting some mates over and building his golf green.
Finally finished today. Love the green my son and I have spent hours on it already. Thank you for all your help during the process. With the guide making things heaps easier. Was a good excuse to get some mates around and have a beer or two as well.
And this is what our golf greens and business is all about – bringing family and friends together to play golf. Check out the pics below on how to build a synthetic putting green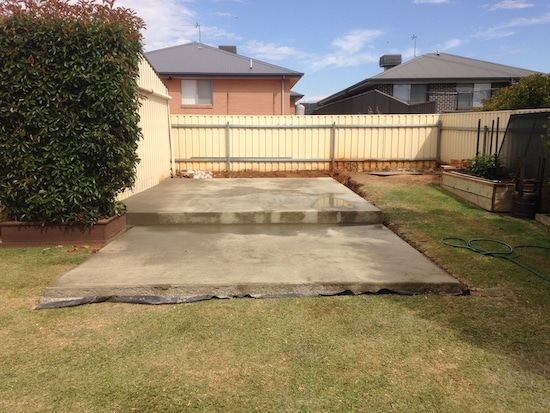 So that's how to build a synthetic putting green in a nutshell. This DIY project saves quite a few dollars over a full install and if you follow our comprehensive DIY guide you won't have too many issues.
Some things to keep in mind:
Keep the design simple (like the one above)
Forget about crazy undulations unless you have a really big area to work with
Get some help from a mate (or two) who has a Bobcat or Dingo or tractor (they will become your best friend)
Don't rush the baseworks. They really are key
And perhaps, most importantly, get some quality synthetic golf grass from us 🙂
If you think you've got the goods to build your own backyard putting green, then we'd like to chat to you.