When I was getting my bunker built I definitely wanted a bunker installed. Many golfers struggle with sand and I wanted a nice bunker to be able to coach others. Bruce has put in lots of bunkers and understands the intricate details of building one.
I wanted something with a lip (so I could practice the high and soft shots) and it also needed a pin location that was close to the edge of the bunker. This location gives me plenty of options and can challenge even the best bunker players. The thing that has impressed me most about my green is how realistic it is when spinning sand shots land of the surface – I can hit the spinning shot from the sand and watch it come to a sudden stop. The spin takes effect on the second bounce, and this is almost the same as on normal grass.
My favourite part of the day is to wander out of the office around 4.30pm each day, grab my sand iron and then take the frustrations of the day out in the bunker. Bruce has built a beauty of a bunker – it has excellent drainage (needed up here in QLD) and the sand is a beautiful white variety which is found on all Championship courses. Bruce's design allows me to hit all sorts of shots and despite the huge amounts of rain we've had this year, it has never flooded.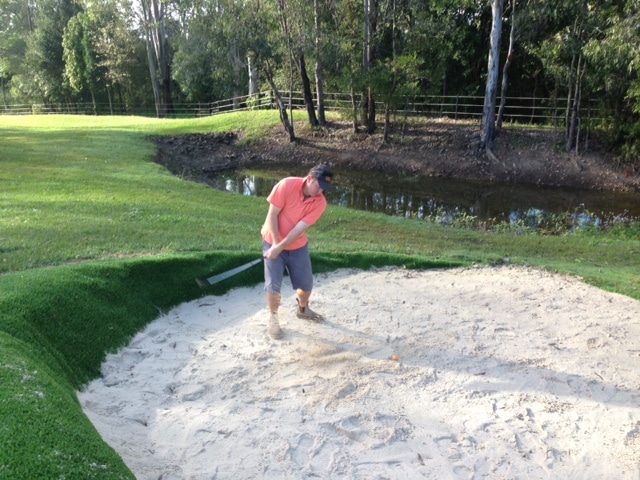 Here are some other bunkers Bruce has built around Australia: