The images below are from my old synthetic golf green. I say "old" because I moved two years ago.
The new owner asked me to pop around and give the green a service. He doesn't play golf but he still likes having it in his backyard. When I first saw the state the green was in I couldn't believe it – he has a range of animals who now live on it. Llamas, goats, sheep and even a horse.
The green was in a total mess and I wasn't sure it could be resurrected. It was in a bad way.
It took an hour or so but the green came up well. It looked like new but I still wasn't sure it was going to perform that well. I was worried all the manure (and everything else) would have damage the surface, making it too hard and fast.
I took a bunch of balls up to the 85 metre tee and let loose. The first shot came off nicely and landed on the middle of the green, took a bounce forwards and then spun back about 50cm. I really couldn't believe it. I hit the rest of the balls and the synthetic green performed like it was brand new.
Putting was next. Same deal. The green was pure. No bouncing, no imperfections. Just a pure roll. And the speed was good too – running at around 10.5 on the stimpmeter.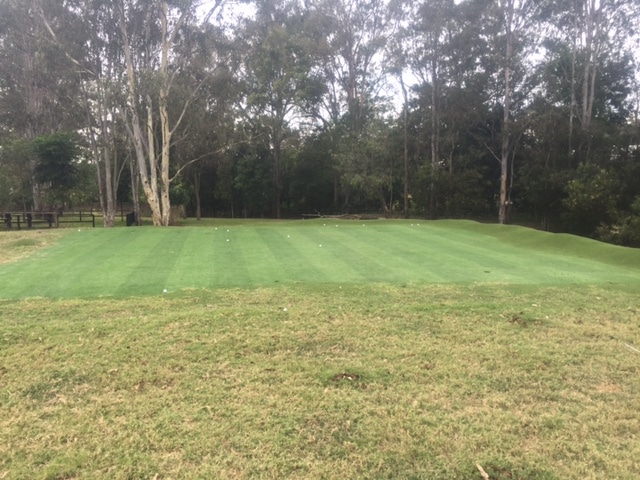 If you're concerned that a Supreme Green isn't going to last the distance then think again. This little beauty has had everything thrown at it;
Torrential rain events (at least three)
40+ degree heat
Constant high humidity
An ice event (was completely covered in hail stones)
A stray horse and bull running on it
A ride on mower (the new owner drives his mower on it)
The petting zoo living on it
Probably 10,000+ lofted shots onto it
And maybe a list of other things I don't know about
There are no pitch marks. It still looks great and it performs as well as the best "normal" green you can find. Maintenance is a breeze, at most, if you completely let the thing go wild, it will take an hour or so to bring it back.
I'm not sure there is a better, easy to maintain, realistic and durable synthetic golf green available on the Australian golf market today. If you're keen to get a quote and see what we can do for you, please contact me.