Here are a couple of images from a recent install we did in Mt. Eliza, Victoria. Before you check out the images, here's some more info:
The client is a very keen golfer and wanted a substantial green complex that was realistic but also challenging. We came up with a design with two distinct levels. The tier is quite extreme and provides lots of interesting (and difficult) putts and also allows for some interesting pin locations. The design also included large fringe areas for chipping/pitching – we added two types of fringe grass to simulate chipping from normal fringe and rough.
Total size of green complex, including fringe, is 475m2.
Design also included,
2 x golf tees (50m and 30m shots)
1 x bunker
1 x Hitting cage – a great way to practice your long game. We incorporated the net so it's somewhat tucked away (hard to see from the house) but also so the cage hitting mat can be utilised with the green, giving a 3rd teeing ground.
Please note: In the images you'll notice some Profill on the surface. The images were taken just prior to final completion and the Profill hadn't been fully brushed into the grass.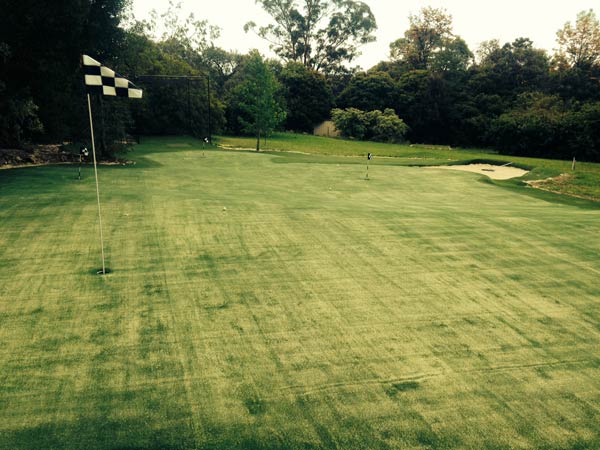 Click here to view full image (1.5mb)
Click here to view full image (1.5mb)
I'm heading back to Melbourne in a few weeks and I'll be sure to get some updated images and video of this golf green. It was a fantastic project and we were able to overcome some serious water issues in the early days.
If you have the land and you're keen to get an amazing golf green complex for your backyard, then please contact us.