Looking at getting your own putt putt facility?
We can help you.
Over the years we've help design and build a range of facilities all over Australia. Typically these venues are for commercial use, but we can even help you create something for private use.
The biggest mistake we see clients make is trying to skimp on the quality of the grass. Because a putt putt course will see wear and tear on the same spots, it doesn't take long before the high traffic areas will cause issues.
– the ball won't roll properly
– the grass will become terribly worn
– the grass fades, gets scuffed and becomes unsightly.
Our strongest recommendation is to use a quality product. While we understand every project has a budget, if you spend a little extra now, you'll ensure your venue has the longest possible lifespan while also simultaneously reducing hefty maintenance costs.
Once you have a quality grass the design comes next. We can work with you so that you get the very best design:
Minimise wastage (so you're not throwing out excess grass)
Interesting design that keeps your clients coming back.
Utilise your space so you get the most bang for your buck
The best surface to lay your putt putt course on
If you're ready to find out more about getting a putt putt venue then please contact us.
Putt Putt Images
Here are some snap shots of jobs we've completed over the years.
Backyard Adventure Playground
This is one of the most interesting jobs we've completed. The client lives on a steep block and we created a mini-golf/adventure golf course that winds its way down the block.
This project exceeded our client's wishes and has turned a previously unused part of their home into a feature.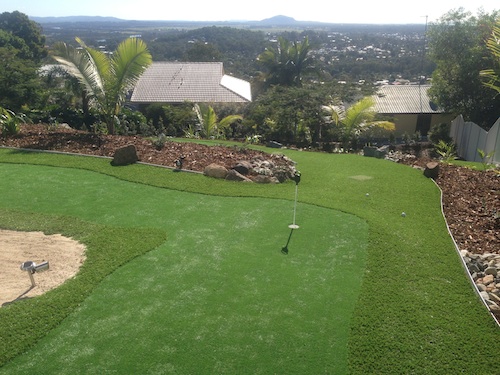 When it comes to helping you with a putt putt/mini-golf facility we're here to help you. Please contact us and give us a rundown on what you'd like to do and we'll point you in the right direction. Remember, we install golf facilities all over Australia using Australian-made and golf specific synthetic grass.