In this post I want to give you a rundown about our synthetic golf grass and how we like to roll as a business.
The big news is we changed supplier in 2018. And in a word, these guys are AWESOME. They understand golf, they share our vision and it has been a pleasure to deal with a synthetic grass company that can see the big picture. We will continue to be at the forefront by delivering the best synthetic grass products for the golf market and we're committed to keep innovating and providing the best information possible.
When it comes to our synthetic grass, the word I like to use is premium. While it would be easy to stockpile large quantities of grass from overseas and sell it for exceptionally low prices, the question you have to ask is, will this type of grass be effective?
In most cases the answer is a big NO!
The grass is not properly UV protected (despite what they tell you)
The grass tends to shrink and fade
The grass is not made for our harsh Aussie climate. The fact is, many offshore grasses just can't take a belting from the Australian sun (the grass will fade, shrink and even disintegrate)
The grass is not made for golf. And this is the biggie because many claim their grass is for golf but at best, it's a hybrid grass. This means it won't putt true and you certainly won't be able to stop a ball on it.
The grass doesn't look that good. Cheap grasses tend to look "plasticky"
The grass could contain nasty and harsh chemicals (never a good thing)
They can't provide you with quality accessories (like cups, tape and flags)
The grass is not pet proof (or kid, party and "almost anything" proof)
They don't provide a "serious" guarantee that is backed by local Aussie businesses
And when it comes to Supreme Greens, we are here to offer you all the very best advice. We are quite prolific in providing all the best information when it comes to building a golf green. So, you can be confident in receiving the best information from the people who have their finger on the pulse. As way of example, we provide a design consultation (via email) to help you come up with the best golf green design.
And all this is leading to the price. The bottom line is you really do get what you pay for and we're not a discount store. It's just not possible to produce a quality Australian-made product and compete with cheap overseas variations. And we're not crying about this or asking you to feel sorry for us. We're just presenting the facts.
And while there's nothing stopping you using cheap grass, sometimes the thrill of saving a few bucks can come back at haunt you later on. Just the other day I saw a client who obtained some discounted sports turf. He certainly got the grass for a great price, the problem is, he doesn't have a golf green that's usable. It's way too fast and the ball doesn't stop when he chips onto it. And the green doesn't look that good either. If you ask me, it's a total debacle.
So he has wasted time & money. And when I gave him our price to replace the green, he realised that he would have been better off going with us from the start (he would have paid a little bit more but would have gotten something quality). And now he has the awful dilemma of admitting to his wife he was wrong and then replacing the green or, he keeps the green but is totally unhappy because he knows deep down it's not what it should be.
When you factor in the quality of product, the level of service, the peace of mind and the guarantee, we are super competitive. And that's how we like it. We don't try and compete with everyone and we pride ourselves on delivering the very best result for a fair price.
If you're in the market for your own backyard golf green then we'd love to talk with you. Start the ball rolling by filling out the form here. There's no cost or obligation to take this step.
Thanks for reading.
Cameron Strachan
P.S. We have a range of products and design options for all sorts of golfers who have all sorts of locations. Things start off with our new portable golf greens, then there's a full DIY option and finally, we can come in and build you your very own dream backyard.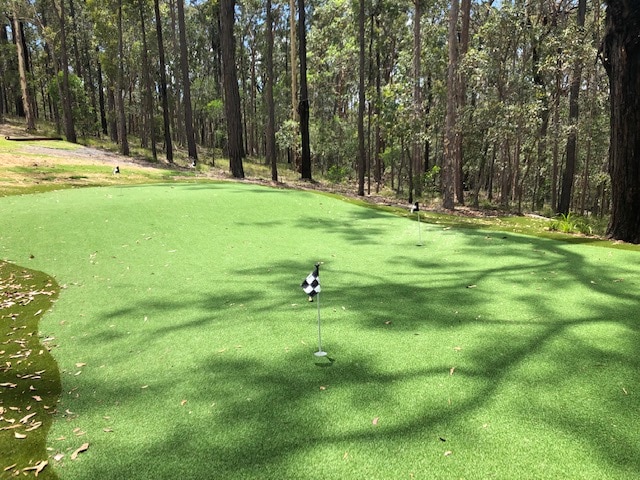 Please click here to get a quote for your own synthetic golf green, either, DIY or full install.