In this post I'm going to share with you our new concept for synthetic golf tees. This system is ideal for country golf courses and backyard set ups where you're after a premium teeing ground, with the least amount of cost.
There's a couple of points I what to make right off the bat:
Traditional golf mats (the ones you find at driving ranges) are not a bad option. They can be expensive but they do a good job at providing a useful teeing surface. The rubber tees can be a bit of a pain and this means they are not ideal for country golf courses.Sidenote: There are around 1500 golf courses in Australia and with much of the country in drought, it's getting harder and harder to justify water allocation for a teeing ground. I've seen this challenge over the last 5 years and henceforth, created our new teeing surface. And it's absolutely perfect for the many country courses that can't source water and are struggling with the financial issues of long term maintenance.
The more modern teeing surfaces, where you're able to stick a normal tee into the synthetic grass, don't provide a stable platform to stand on. It's like hitting from a mattress and one reason why I don't think they are as popular as they could be. These golf mats are also prohibitively expensive, costing upwards of $800 for a single mat. And because a large chunk of the mat is taken up with your stance, you're paying for premium grass that doesn't get used.
So what's the solution here?
I've created an insert teeing system that utlises the best of both worlds. A premium teeing insert that is truly the ultimate teeing surface to strike a ball from (and you can insert a normal golf tee) and a stable base to stand on. A cheaper, but much more realistic surface, is used for the golfer to stand on. This has resulted in a complete win-win for golfers everywhere.
Prior to this year we have sold a teeing solution to golf clubs and serious golfers everywhere. The problem was the golfer/members had to glue the premium tee grass to a rubber shock pad and this just wasn't ideal.
And I certainly tried to get the manufacturers to come to the party here and help out. But they were reluctant. They either didn't want to create this premium tee insert (I think many in the golf industry are still in first gear. They are slow to react and like things just the way they are), or were going to charge an arm and a leg for it.
Another sidenote: There is no manufacturer of this premium tee grass in Australia. The machines are super-specialised and there probably isn't quite the market here to justify someone bringing one in. So this amazing grass is made in China (and a few other places).
Anyway, in my recent travels I was able to source a manufacturer who is completely onside. They will be producing these premium tee inserts and the first batch will be arriving in the country really soon. Cost is going to be in the ballpark of $129 each (plus GST and postage)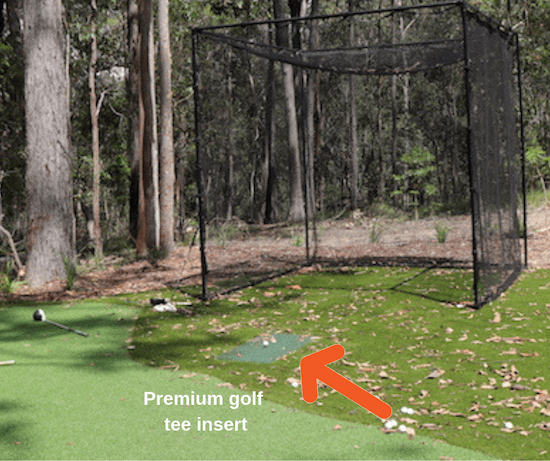 This golf tee insert is ideal as per the image above. For backyard applications, with a hitting cage, this synthetic tee is ideal. The tee insert is so durable that I doubt you'll ever wear it out. And now, instead of having to stand on a mattress, you can use cheaper fringe grass. This fringe grass offers a much more stable base of support anyway, so it's completely win-win (and you'll save yourself a quote a few $$$)
And it gets better. Those regular 1.5 x 1.5m mats usually sit above ground. With my premium synthetic tee insert, you actually bury it in the ground. This provides a much better look, but also helps with security (it's very difficult to steal them) and also reduces the trip hazard (and the mower is less likely to catch them in certain situations).
What about on a golf course?
We have you covered. Forget about mowing, weeding and watering from now on. With this tee insert and some of our landscape grass, you're able to build a brilliant golf tee that looks great but is also top of its class on performance.
And the best way to do this is with a sleeper box. The best dimensions are 2.4m x 1.8m (this limits wastage of the sleepers) but you can choose any dimension that suits.
And then you're left with something like this…
Over the years I've build many of these kind of tees and they work a treat. There's virtually no maintenance, and despite hitting thousands of shots, I'm yet to wear one out. And you can get adventurous with your tee box design by adding seating, advertising and even hole information.
If you're thinking these golf tees will work well on many of the Australian country golf courses then we're on the same page. And perhaps, best of all, they are cost effective. They are also simple to construct so any golf course, with the help of a few members, will be able to build them.
These tees are also ideal for your backyard or a par 3 course. Set up a par 3 at home (with one of our synthetic golf greens) and you won't have to worry about digging up your lawn.
Please forward this post to any golf course you think could benefit. And please contact me if you're interested in getting your own tee insert(s) and grass. I'll have everything in stock from March 2019.
Regards,
Cameron
P.S. I have added install instructions for these golf tees inside the DIY guide. You get access to this after any purchase