Note: Pricing in this article is only a guide . Please contact us to get the latest pricing. All costs listed below should only be used as a reference and is subject to change. Please visit our price page here for updated information.
This is always the million dollar question…
"What does a backyard putting green cost?"
In this article I hope to give you some ballpark ideas and hopefully point you in the right direction. The bottom line when it comes to the cost of the green is your budget – obviously, the higher your budget the bigger (and probably better) your golf green will be. Here are some of the key considerations…
DIY
If your budget is limited then I recommend the DIY option. We sell our synthetic golf grass directly to you and ship all over Australia. We even have a handy DIY guide that can assist you in the building of the green. Please contact us to get a copy.
At the time of writing our Supreme Green Grass cost is around $50 per metre. A very good backyard green size is 3.71m x 7m long. Please note that our grass comes in widths of 3.71m so this is a good width to use to avoid waste.
Your next consideration is Profill. You don't have to use Profill, a white washed sand will do the trick but it's not ideal. Sand becomes hard and compacted and from here your green will be too hard and fast. So use Profill if budget allows.
Profill comes in a bulka bag (1.1 tonne) or 25kg bags. The bulka bags cost $533 each and the 25kg bags come in at $25. In most DIY greens we make up the Profill with the 25kg bags simply because they are way easier to handle. If you've got a big job then we can sent the bulka bag, but you'll need a forklift on site to do the heavy lifting.
Fringe grass is a nice addition to your backyard green. It looks fantastic and also gives you a place to hit chip and pitch shots from. The fringe grass is also an excellent way to increase the size of your green without breaking the balance. Our fringe grass cost comes in at $39 per square metre.
Now comes freight. Unfortunately there's no way to give you an accurate cost (until we have all your requirements and postal address). It all depends on the amount of stock being delivered and where you live. But please factor in shipping costs when you're doing your calculations. On a typical DIY job the freight comes in at around $180 – $300. But as mentioned this varies from job to job.
I haven't included accessories like cups, flags or tape. We provide a DIY Kit for $200 that comes with, 3 x cups, 1 x tape (for joining) and 2 x mini flag.
A normal DIY setup is going to cost between $2,000 – $5000 + your time and sweat to build it.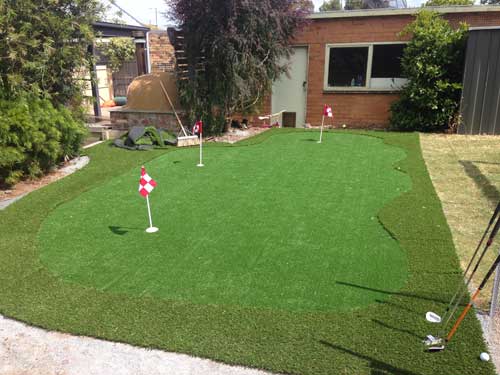 Install
Giving an estimate of cost on a full install is a little bit like asking, "how long is a bit of string?". There are a few determining factors.
Size of the green.
Your location.
Access issues.
Amount of base works required.
Design of the green (bunkers, slopes, shape etc)
If you live in a remote part of Australia and you want a large green, with bunkers and a fancy design, you're going to pay a lot more than someone in a big city who wants a plain type of putting green without the bells and whistles. For the sake of the argument lets look at a backyard putting green of average size and without anything too fancy.
Green size: 75m2
Location: Capital city on east coast of Australia.
Access issues: none.
Design: Simple design – no fancy shaping required
Base works: Standard – just typical baseworks without any need for large changes in backyard.
Accessories: 4 x cups and mini-flags
The cost of this backyard green, keeping in mind this includes a full install which means the entire job is completed by our team, including clean up is going to be about
$9,500
You'll have an amazing putting green in a few days (normal construction is 2-3 days) and your yard will be completely transformed.
If you want something a little larger, lets say 200m2, with a bunker and extra accessories, the cost will most likely fall into the $20,000 – $25,000 bracket. If your green size isn't as large the cost can come down to the $7500 – $8000 mark.
With all install jobs the best starting place is to send us a basic drawing or tell us what you have in mind. From there we can work out a solid price for you and make sure you get a golf green that will 100% match your needs and budget. Get a quote today.
I hope this article gives you a better idea on how much a backyard putting green costs.
One last thing: We always get a little nervous when doing articles on the cost of our putting greens. Not because we're trying to hide anything, but because it's just so difficult to do – there are many factors and each job will be different. So please use this as a guide and let us know if you have any questions. The prices were correct at time of publishing, but like a lot of things, these are subject to change. Pricing is always subject to GST.
Thanks for reading,
Cameron Strachan