I'm hopeless when it comes to working with my hands. Clare is always onto me to fix things around the house and it makes me cringe each time. I just don't have the knack for it and prefer to rely on others for this kinda work.
But not everyone is like this. Take Adam. He's from Melbourne and was super keen for a putting green in his backyard. He's a good golfer, a two-handicapper, and obviously has some skill for construction and making things. Check out his images below.
This is a great example of what can be achieved in your own backyard. Here's some of what Adam has to say,
Although only reasonably small (7m x roll width 3.6 m), I must of done ok on the install as green runs nicely, with a variety of break around the 3 holes.
You are really only limited by your imagination. You can create any sort of design and have all sorts of slopes and undulations if that's your thing. I wouldn't recommend going too radical on a smaller type green as it won't be overly realistic – maybe more like Putt Putt.
We have hosted a couple of BBQs with kids and adults alike enjoying time on the green, including a work breakup party which included beers and chipping/putting over a few hours. My kids love getting out there and I have put in some serious practice time, with an immediate improvement to the scorecard. In the few rounds since Xmas, all have been even par or better off 2 handicap, all due to improved putting and confidence that goes with it!
And this is the best part. A putting green gives you and your family & friends a great place to have some fun and socialise. The golf improvement happens as a nice little side benefit.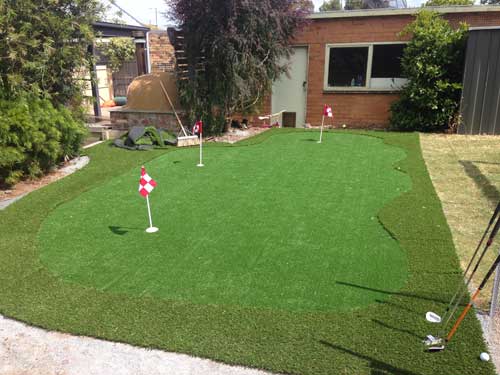 It is a great addition to the back yard for the family & my golf game.
It sure is.
A full install can be an expensive exercise and for many the cost prohibitive. But if a DIY project doesn't scare you then a cheaper, but still highly effective golf green, is a possibility. We're here to help you and have even put together a DIY install guide (contact us to learn more).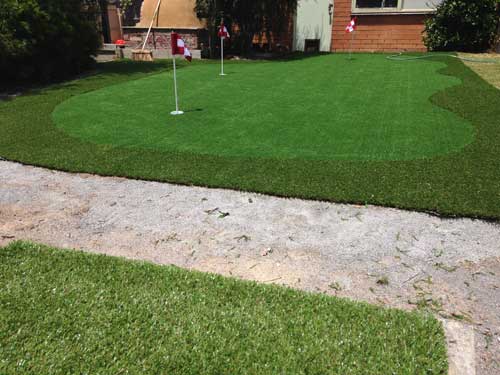 The chipping mat is a nice touch (as is the fringe grass) as this gives you another dimension to practice those little chip and pitch shots.
Great job Adam!
One more thing. I thought I'd include a before shot of Adam's backyard so you can get some perspective of how a putting green can transform your yard.