The turning point for my decision to go ahead with a Supreme Green was getting to actually see and touch the grass. Bruce was kind enough to send me some sample grass and it really highlighted the quality.
If you're close to making a decision but still aren't sure, then head over here and request a sample. I'm sure once you get to see, feel and even smell (I bet you sniff it, I did) then you'll be convinced of the quality. Remember, all of our synthetic grass is made here in Australia to exact standards. It's UV protected and our Helix grass is designed for golf. You'll see in the sample the non-directional grain and how soft it is. It's perfect for golf!
We can send you a sample of the Helix yarn grass, our range of fringe and chipping grass and even a tee grass if that's you're thing. All we ask is you tell us a little bit about what you're after and be sure to include your full name and address details.
Here's a very ordinary photo of some samples (sorry, I'm no good at photography).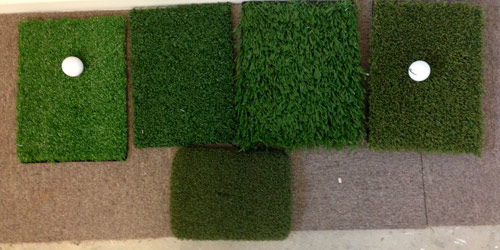 Interested? Click the button to arrange a sample of our golf grass to be sent to you.