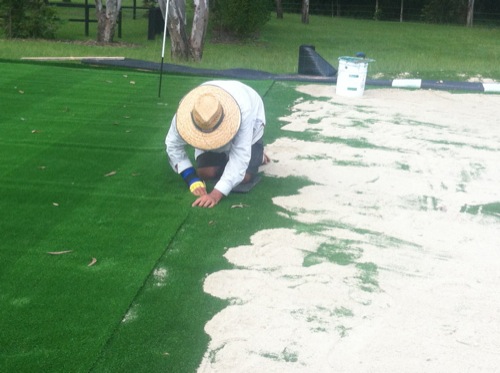 The above photo is my favourite from all the images I took. Why? Because I think it highlights Bruce's passion and dedication for his golf greens.
It was a hot and humid day and Bruce was out on his hands and knees for over an hour making sure the synthetic grass (the Helix yarn to be precise) matched up perfectly with each other. This ensures not just a good edge, but a seamless one. It's almost impossible to see where one strip of grass ends and the other starts. This process could have been rushed or he could have gotten someone else to do it. But not Bruce, in his mind the little touches are what makes for an excellent product and leaves the right impression. It certainly made me sit up and take notice.
For 25 years Bruce has woken up and asked himself, "how can I make these golf greens better and more realistic?". And step by step he has gotten closer to his mission. Yep, he's had some failures along the way,
Like when he tried rubber filings as the infill (the rubber made the ball bounce like a trampoline)
or
When he thought he has mastered the base making process by using an eggshell like foam and then filling that with sand. He was so confident of this technique he really thought he was on a winner. This process did allow the ball to stop quickly, but the green was like walking on a mattress. It was way too soft and therefore the concept was scrapped immediately.
To succeed you need to make some mistakes. And Bruce has made plenty. But this hasn't stopped him from achieving his mission – he has moved on, trying new ideas and continually refining the process until the Supreme Green was born.
A synthetic golf green is a serious investment. And because they cost a lot of money there's a tendency to skimp and save by buying the cheapest (I certainly considered going elsewhere) or even building the thing yourself (I'm hopeless at building stuff so this was never an option for me) but doing so means you miss out. You miss out on getting a golf green that is going to blow you away. Cheaper variations don't have the love and attention put into them. And if you build the green yourself you're always going to wonder if you've done something wrong or you've missed out on something.
Plus, cheaper variations and DIY still cost you a lot of money. It's not like you're getting the green for a steal – there's still a significant financial outlay.
Here's my final thought: A Supreme Green is a fantastic product. To me it's not about the Helix yarn, or the base building process or the Profill secret sauce or any of the technology that goes into them. Chances are, that someone, somewhere will copy these things and offer the same product – maybe cheaper. But what can't be copied is the knowledge, expertise and attention to detail that goes into each green. This leads to satisfaction on the consumer's part. When you walk onto your green and watch putts roll true or you hit a spinning approach to the green and see the ball check and stop you will KNOW you've made the right decision. You'll be happy and contented and there's absolutely no buyer's remorse. You'll feel like you've had a significant win – something not that easy to achieve in this commodity driven world.
Over and out.