Andrew is a keen golfer who wanted a synthetic golf green that would make a statement. He lives on the Sunshine Coast, Queensland and his putting green needed to fit into the overall feel of his property – he wasn't interested in tacky and the green certainly needed to perform.
Once he saw my golf green, he knew a Supreme Green was going to be the right choice for him. Andrew's brother is an expert on an excavator so he got to work on the initial site cut. He did a brilliant job, cutting the green into the sloping land and creating a tiered green with a bunker. The only suggestion we made on the original design was to reduce the severity of the tier slightly (otherwise large portions of the green become unusable).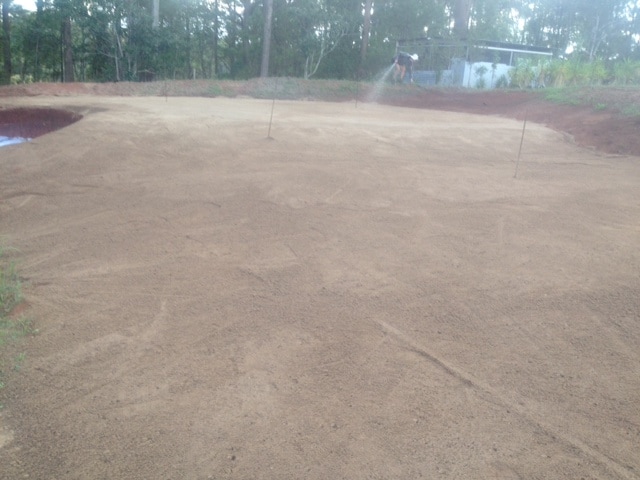 A huge part of our designs is to ensure the greens are firm and drain well. It certainly knows how to rain up here on the Sunshine Coast so Bruce ensured the green has the correct amount of fall (so water naturally drains away) plus added some drainage as backup. A Supreme Green is designed for firmness, drainage and impact absorption – this gives them realistic playing characteristics and makes them low maintenance. After a heavy downpour this golf green will be playable in a few minutes.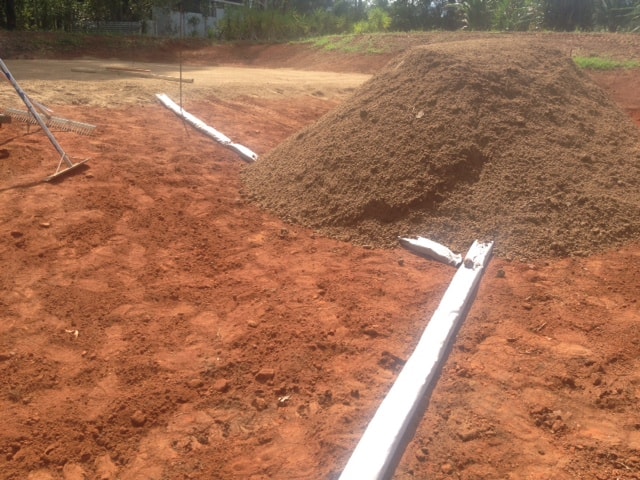 Don't forget to drain the bunker properly. Some bunkers like to fill with water, eventually making the sand inside like concrete and the bunker useless. Bruce's bunkers are perfect. They drain very well and he also places a layer of plastic at the bottom to stop the weeds coming through.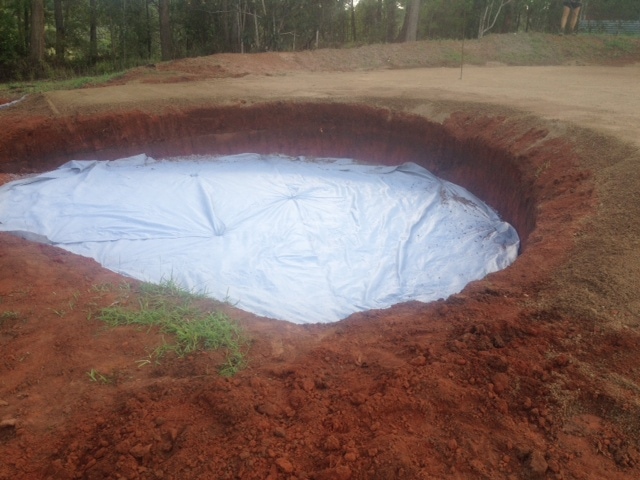 The next step is laying the grass. I'm not sure if there's a person in Australia who has laid more synthetic grass than Bruce Warwick. He knows all the secrets to ensuring the green looks great while making sure it will perform as close as possible to a realistic golf green. Bruce takes his time to make sure the grass is laid perfectly, you'll have a hard time spotting any joins and there are zero lumps or bumps. Bruce is a perfectionist when it comes to the grass…
Once the grass is down the fun really starts. The next step is adding the Profill – this is our secret sauce that stops the green getting too hard and fast. Normal sand is a nightmare because it compacts and turns into concrete when it gets wet. But Profill is weather and compaction proof and been specifically designed by us to be the right size, texture and shape for use in golfing greens.
The Profill gives the green it's speed. Use a lot of the infill and the green will be fast – a little and the green will be slower. The Profill also keeps the green in place. We use approximately 20kg per square metre, so there's a lot of weight holding the green in place (FYI – Andrew's green area is approximately 200m2).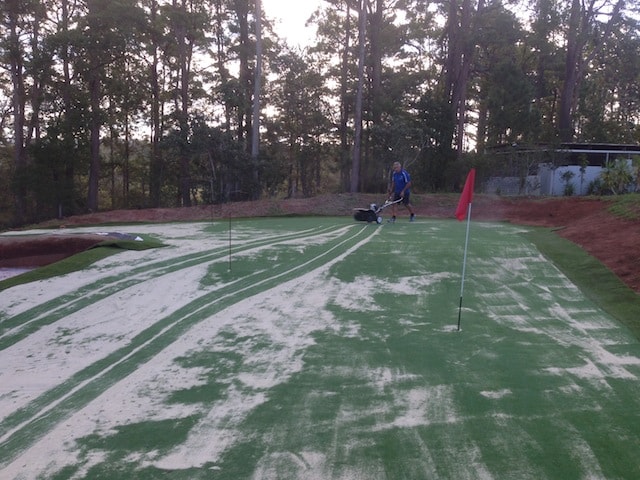 Once the Profill is added and brushed in the green is ready to go. The beauty of a Supreme Green is there's no downtime or waiting around for the green to settle. The Profill will settle over time and the green get better with age, but it's good to go right from the outset.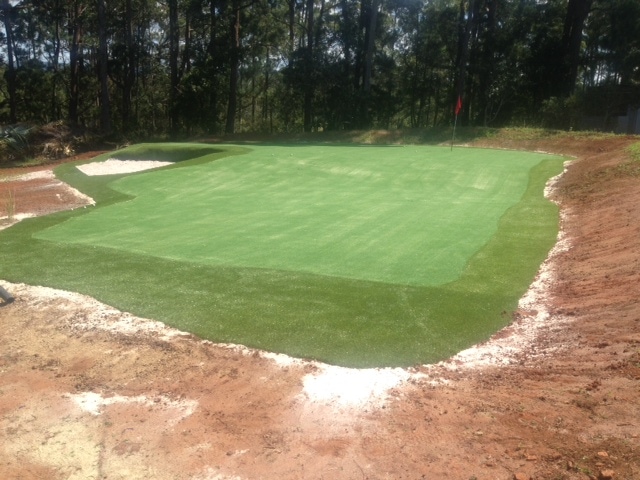 We added a small strip of our fringe grass around the sides. This finishes off the green nicely, giving it a realistic look while also giving you the perfect place to hone your chipping game.
Bruce had some left over Supreme Green grass and added an extra wing around the bunker. You would never see this little strip on a real green, but with synthetic grass you can do anything you like. This extra wing gives Andrew a place to practice some longer putts and also the option for a super tough pin location for approach, chips and bunker shots. I love it!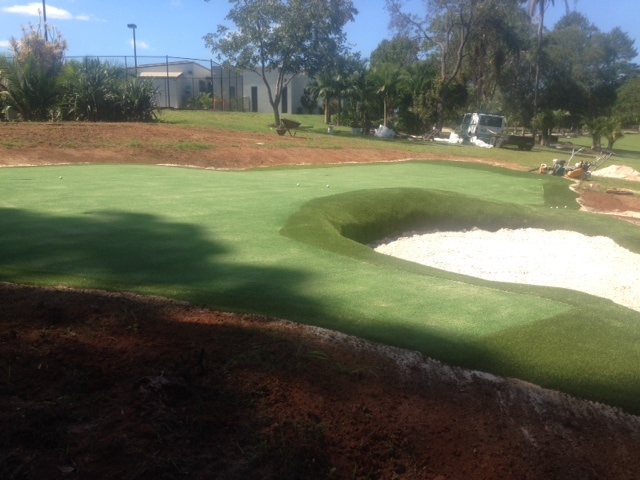 There is a lot to like about this golf setup. If you're a mad, keen and serious golfer this is some sort of golfing Nirvana. The green is interesting with lots of slope and variety. The bunker is a beauty, it's not too deep, but if you get up close to the lip it will test even the very best golfer. The natural slope to the right of the green acts as a collection area and stops stray balls ending up all over the place.
We have also added 3 golf tees, giving Andrew three amazing par three holes that will give him hours of enjoyment.
Hole #1: 51 metres – this hole forces a shot over the bunker and will test your nerve.
Hole #2: 98 metres – A nice shot up the hill to the green.
Hole #3: 140 metres – This is a tough, but fantastic par 3.
I'll add some pictures of these holes soon.
What I don't like about this golf green: Is that it's not in my backyard. Bruce, Andrew and the team have come up with a brilliant design that showcases what is possible with synthetic grass and a little imagination. We spent a couple of hours the other night with some of his friends giving it a test run. It was a lot of fun and there are many playing options that will keep golfers interested for years. Add in a few beers and it's one brilliant entertainment area for the boys to stretch their legs, hit a few balls and have a laugh.
If you'd be keen to have something added to your backyard then please contact us. We install these beauties all over Australia and would be keen to discuss your ideas with you.